High Pressure Aluminum
Quincy's aluminum high pressure filters are designed for pressures up to 750 psig and offer three levels of filtration. These filters offer an economic solution for air purification needs at high pressure.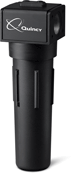 ---
High Pressure Stainless Steel
Quincy's high pressure stainless steel filters provide the best compressed air purification available. These filters offer three levels of filtration of pressures from 750 PSIG to 5,000 PSIG.