QGD 15-60 hp Gear Drive Compressors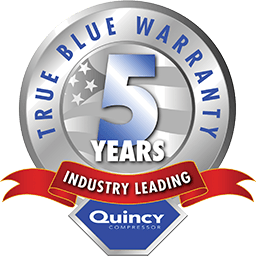 Are you in need of an air compressor that is tough, easy to use and efficient? The QGD Series appears in our world-class rotary screw compressor lineup, and can meet all of these requirements and much more. These 40-60 hp air compressors provide plenty of power — they have industry leading flow and specific energy available at 100-125-150 psig. You have the ability to network up to six machines, making the QGD ideally suited for your large compressed air tasks.
With a premium airend design, industrial-grade enclosure and simple, intuitive controls, the Quincy QGD is designed to provide reliable compressed air under the most demanding conditions. Backed by Quincy Compressor's 5-Year True Blue Warranty, the Quincy QGD carries the same rugged construction that has inspired customer loyalty for generations.