QGDV 15-30 hp Gear Drive Compressors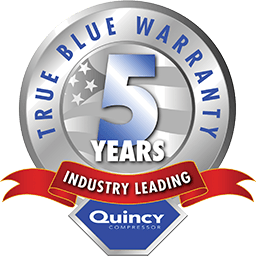 A variable speed air compressor is equipped with a specially designed drive that controls and adjusts the operating speed. This offers a number of benefits, including delivering more constant pressure, protecting against power surges and lowering energy consumption. Many variable speed air compressor owners experience a significant reduction in their energy costs over time.
With a premium airend design, industrial-grade enclosure and simple, intuitive controls, the Quincy QGDV is designed to provide reliable compressed air under the most demanding conditions. Backed by Quincy Compressor's 5-Year True Blue Warranty, the Quincy QGDV carries the same rugged construction that has inspired customer loyalty for generations.